Last night, Wednesday, February 1, a hardy band of yachting and boating enthusiasts spent an evening on the water at Clow Marine Electronics, Yaringa for a most informative practical demonstration on the capabilities of the Raymarine thermal imaging range of products. In 25 knots of cold easterly wind, more than 25, boat builders, marine rescue, private boat owners and marina services attendees, took part in theoretical and practical, real world situations to test this amazing range of Raymarine, marine safety electronic equipment.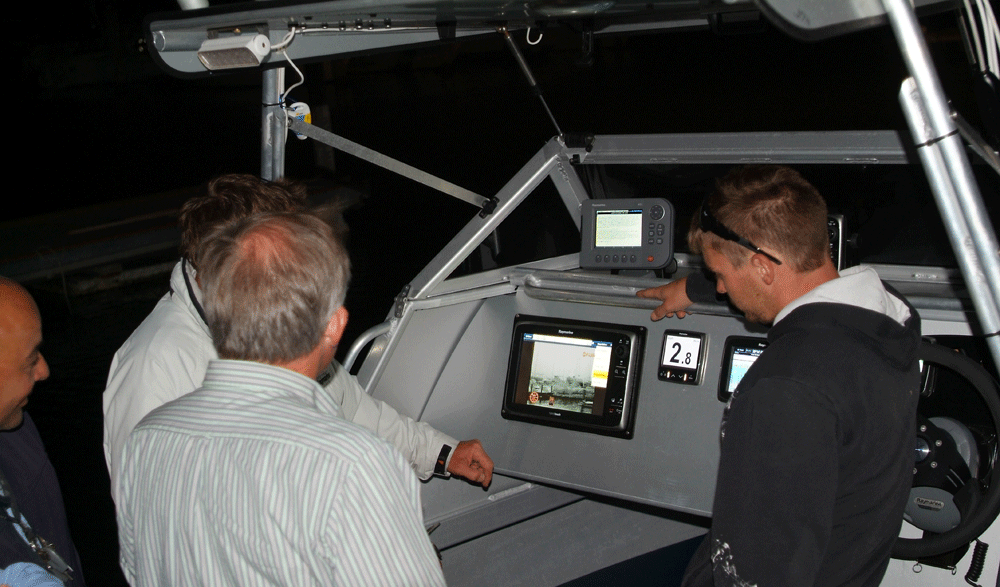 Ian Briggs, demonstrating the features and functionality of the Raymarine T Series Thermal Cameras. The thermal night vision camera system was viewed on a Raymarine E Series Widescreen Multifunction Display. The rugged, waterproof camera has a gimbal enclosure which provides a continuous 360º pan and ±90º tilt for an all round view, on the display we were looking down the length of Yaringa Channel with amazing clarity and detail.

Clow Marine showroom at night, as photographed with a digital SLR Camera, with full flash attachments from 25 metres. Clow Marine showroom as viewed through the Raymarine Handheld Thermal Camera taken from 70 metres in full darkness.
Raymarine T Series thermal night vision cameras create pictures by detecting and displaying small changes in heat, not light. Even the heat left on a wall by a person's hand has enough thermal energy to show up clearly on a Raymarine thermal night vision camera. Everything generates thermal energy, even ice! And although this energy is invisible to the naked eye, Raymarine thermal night vision cameras detect it and turn it into video that is easy to understand, allowing you to see more and see further than you could with your eyes.

This image shows what the human eyes sees in darkness with confusing light sources and hidden structures. The alternate image is what you see through a Raymarine Thermal imaging camera.
Raymarine's thermal night vision cameras aid… Safer navigation, Life-saving potential in man-overboard situations, Enhanced visibility and situational awareness at night, Easy docking in low light, Iceberg and rock structure detection and avoidance, Boat security and surveillance.
The evening was a resounding success with thanks to Bob and Mel Clow for their wonderful hospitality, (great club sandwiches and even better fruitcake and caramel slices) and to Ian Briggs from Raymarine for his knowledge and provision of the hi tech Surtees 5.8 metre plate aluminium demonstration vessel, bristling with every Raymarine "bell and whistle" that could be fitted to a boat 4 times the size of this great little boat. Also thanks to the crew of VMR rescue vessel TX1 who bashed their way around for the information night, after an emergency call out on Westernport Bay.